Main content starts here, tab to start navigating
Menus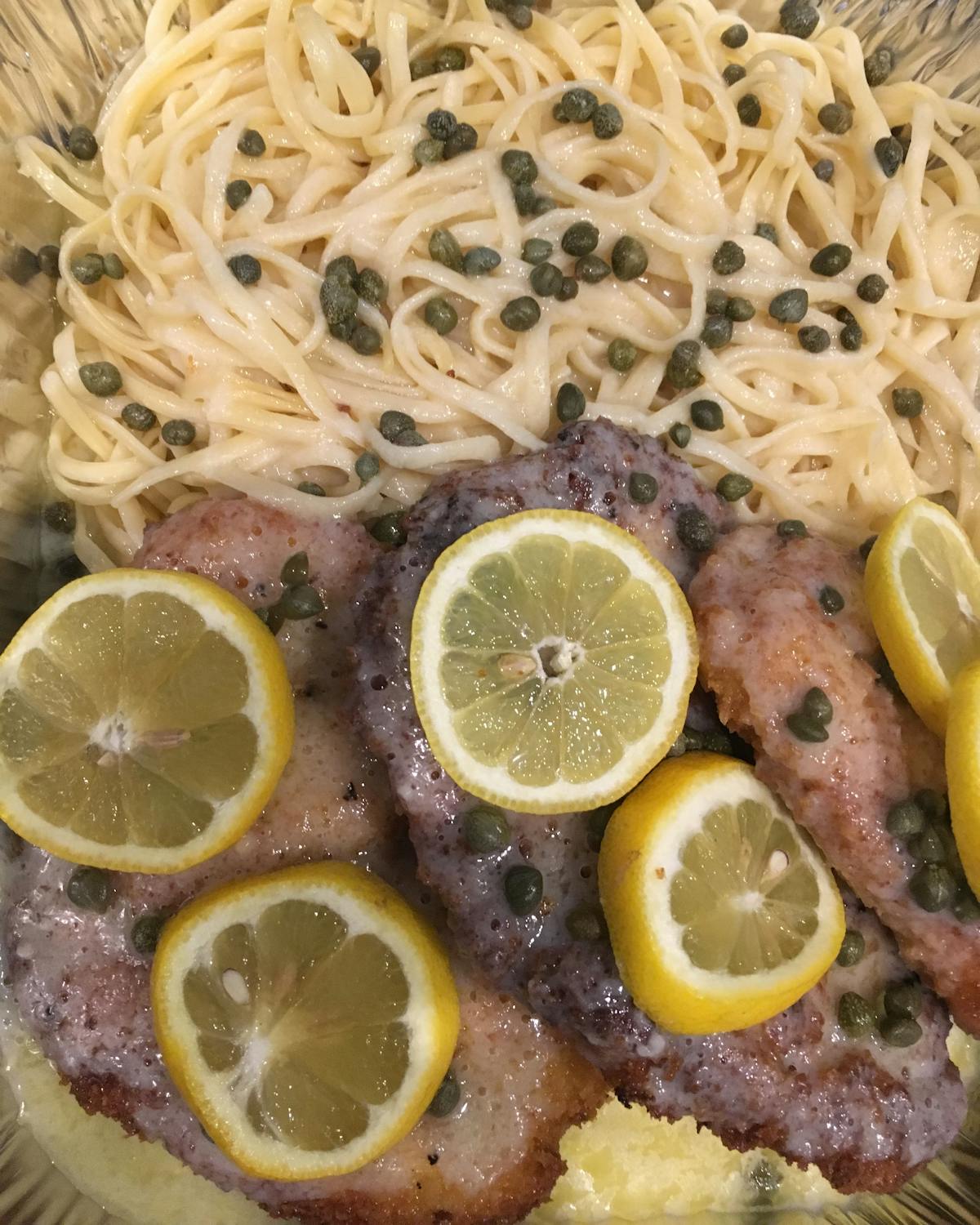 Slide 1 of 5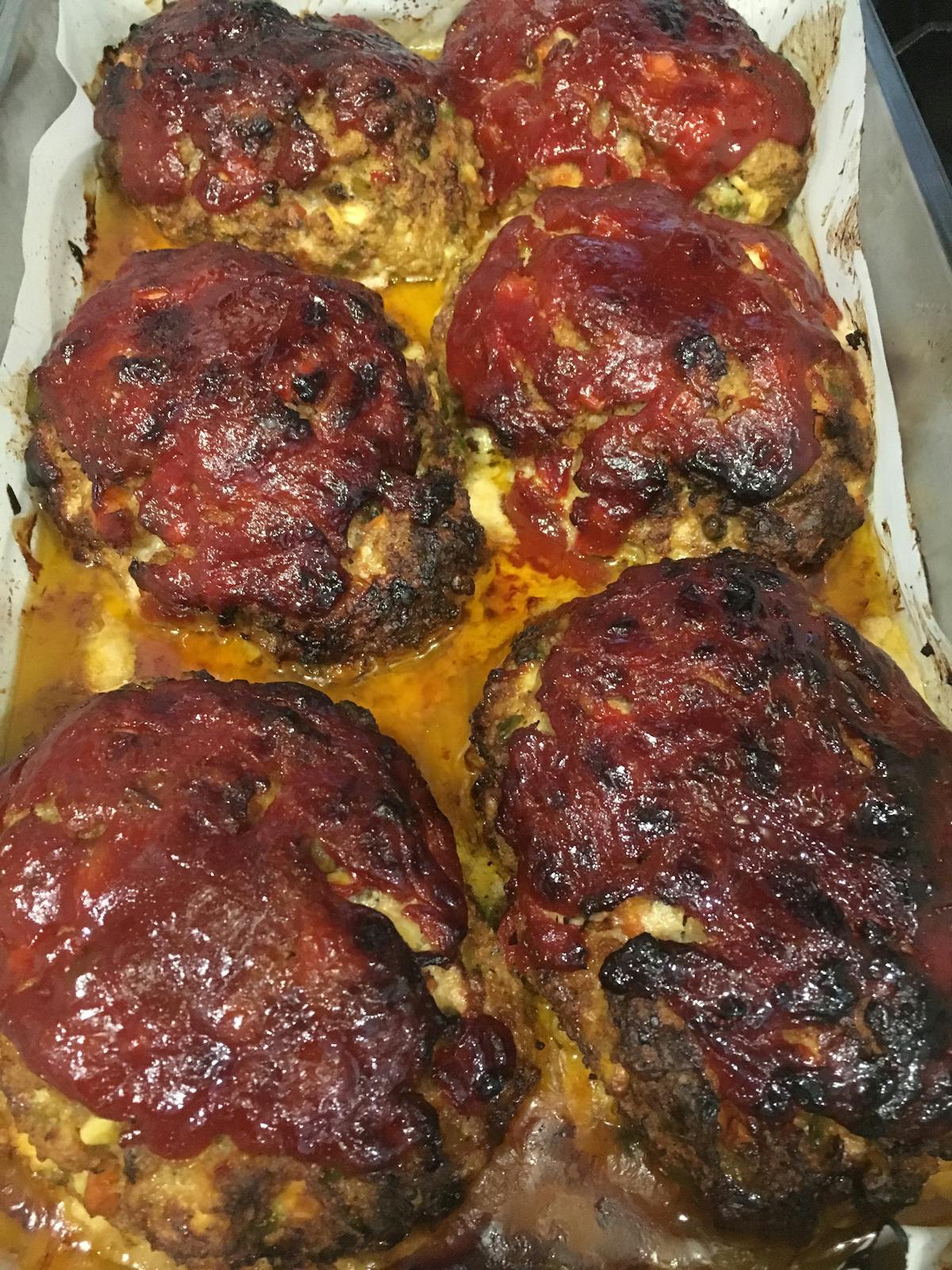 Slide 2 of 5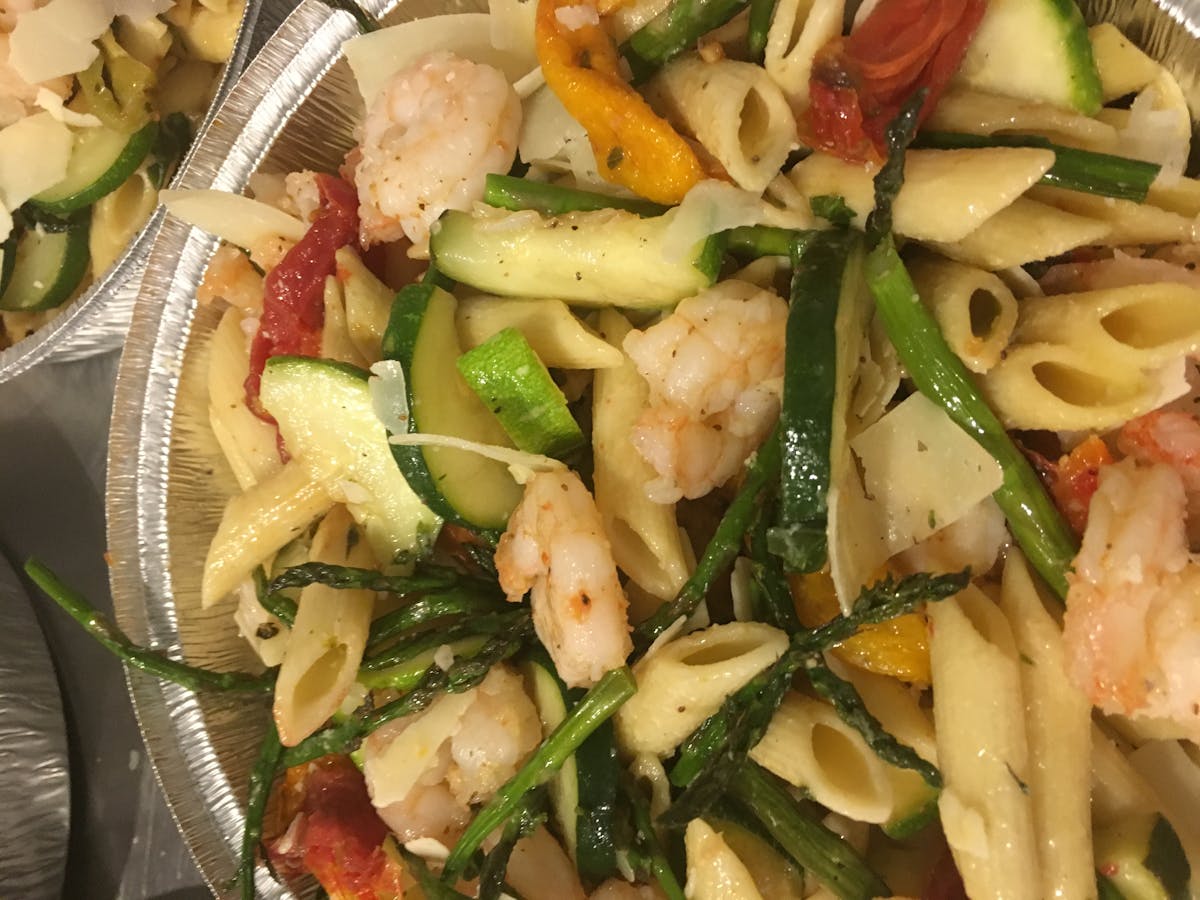 Slide 3 of 5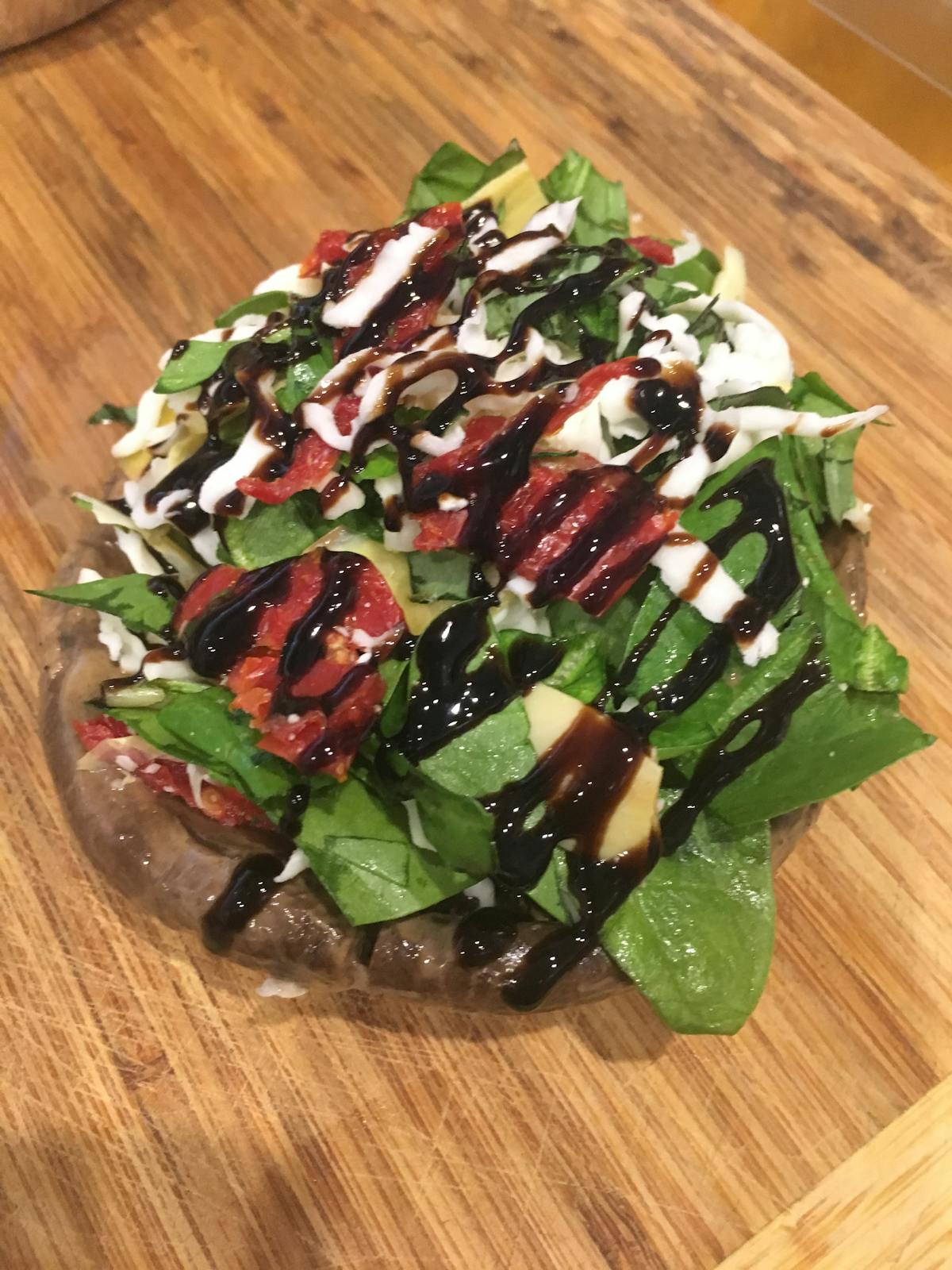 Slide 4 of 5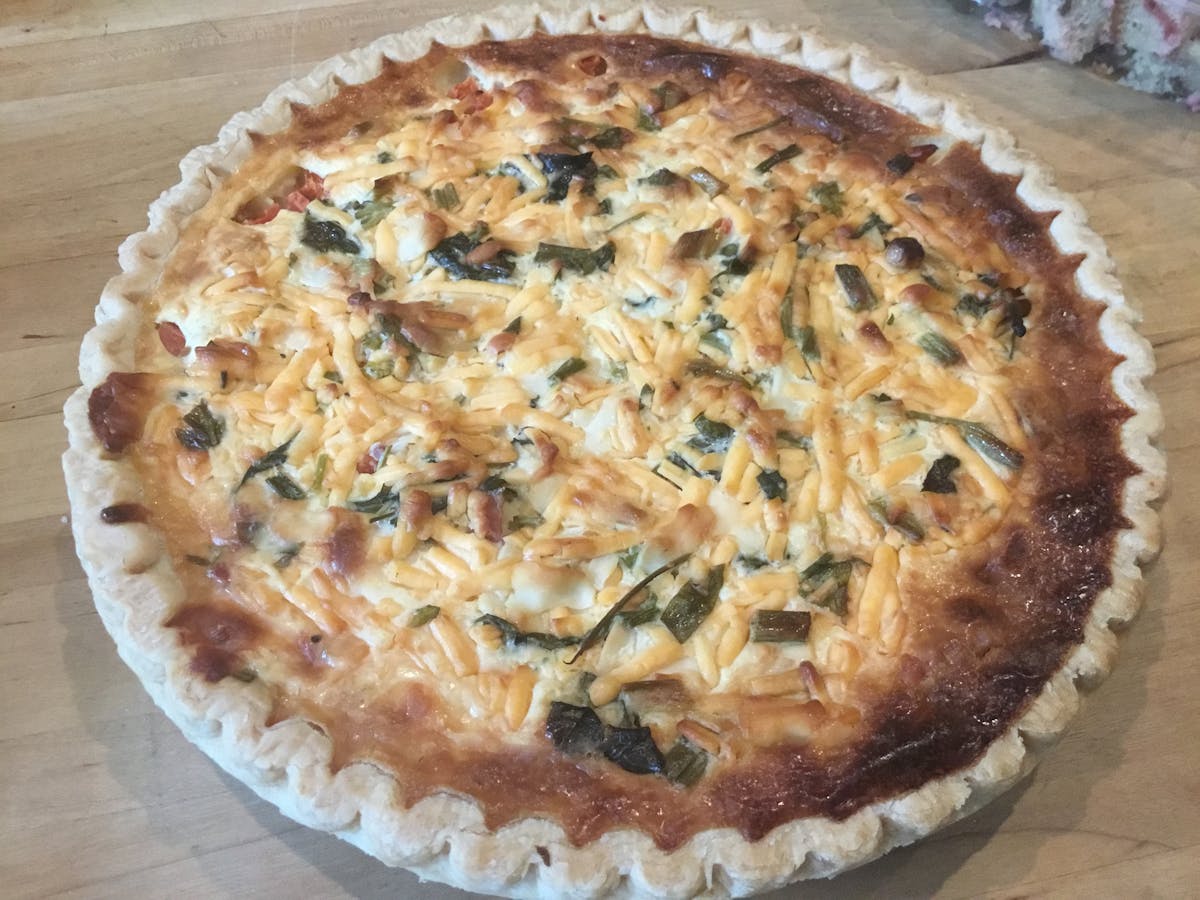 Slide 5 of 5

Family size meals are great for family vacations, large family gatherings or any special occasion when you need larger size meals to feed your crowd!
Appetizers & Salads
Quart Size Pimento Cheese

$19

with pickles $20

with jalapeños $20

with Mediterranean olives $22

with bacon $22

Spinach Artichoke Dip

$20 per quart

Kitchen Dip

$20 per quart

Pickled Shrimp

$20 per lb

Crab Dip

$35 per quart

Carolina Caviar

$18 per quart

Bacon Broccoli Salad

$14 per quart

Chicken Salad

Cranberry $24 per quart

Lemon Dill $24 per quart

Buffalo $24 per quart

Tarragon with slivered almonds $24

Yellowfin Tuna Salad

$32 per quart

Shrimp Salad

$32 per quart

Garden Salad

$35 per half pan: serves 8

Kitchen Cobb Salad

$45 per half pan serves 8

Fall Harvest Salad

$45

BLT SALAD

$45 per half pan serves 8
Half size serves 1-2; Full size serves 2-3
Entrees
Chicken Tettrazini

chicken breast in a creamy sherry sauce with sautéed mushrooms and spinach tossed with linguini and topped with grated parmesan cheese and toasted panko

Half $10

Full $20

Chicken & Wild Rice Casserole

chicken breast, wild rice, sauteed onions and celery, slivered almonds mixed with a light creamy thyme sauce topped with monterey jack cheese and green onion

Half $10 per Half

Full $20 per Full

White Enchilada Casserole with Chicken

shredded chicken with roasted corn & onions, layered with flour tortillas, creamy green chile sauce & monterey jack cheese.

Half $12

Full $22

Chicken Pot Pie

Chicken breast, cooked with carrots, onions, celery, in a creamy herb sauce, topped with a pie crust

Half $10

Full $20

Meaty Lasagna

meat sauce with beef and sausage, layered with a 5 cheese filling with fresh herbs, green onions, fresh basil & lasagna noodles

Half $12

Full $24

Shrimp or Salmon and Roasted Vegetable Orzo

shrimp or salmon with roasted peppers and onions mixed with sundried tomatoes, fresh basil, feta cheese, and orzo, with a light lemon sauce

Half Shrimp $12

Full Shrimp $22

Half Salmon $12

Full Salmon $22

Teriyaki Steak Over Sesame Noodles

sliced flank steak tossed in teriyaki sauce over noodles with shredded cabbage, carrots, green onions & an asian sesame sauce. served with cashews (on the side)

Half Size $14

Full Size $24

Pulled Pork BBQ

$19

Quiche

Sausage, Bacon, Spinach Quiche; Shrimp and Crab - Swiss cheese, green onions, crab, shrimp, and egg custard

$24 per Full Quiche

$34 per Shrimp and Crab

$12 per Shrimp & Crab Indv

Grilled Chicken Wings

The chicken wings come with a choice of teriyaki or hot sauce

$20

Charleston Shrimp & Grits

Shrimp with sauteed peppers and onions , and Italian sausage in a creamy sauce over grits.

$12 per Half

$24 per Full

Pulled Pork Barbecue Stuffed Potatoes

russet potatoes stuffed with cheese, butter, sour cream, green onion, topped with shredded pork barbecue and cheddar cheese

$16

Bacon Tomato Pie

(also available without bacon)

full 9" pie (serves 6-8) $24

individual pie (serves 2) $8
Fit Kitchen Items: Light & Healthy / Gluten Free / Vegetarian / Vegan Options
Many items on our menu can be made for vegetarians or vegans; just email us your request. Check with us weekly for Fit Menu specials.
Stuffed Marinated Portobello Mushrooms

(low carb / vegan option) 2 large balsamic marinated portobello mushroom caps stuffed with spinach, sundried tomato, artichoke, basil, feta & mozzarella cheese / also available without cheese for dairy free, vegan option.

$16

gluten free

Marinara Chicken & Spaghetti Squash

Chicken & Spaghetti Squash, Spinach, mushrooms, garlic, onion, basil, marinara sauce, mozzarella Serves 2-3

$18

gluten free

Buffalo Chicken & Spaghetti Squash

spaghetti squash topped with shredded chicken, sautéed onions, celery, carrots, red pepper, with a creamy buffalo blue cheese sauce-- serves 2-3 : low carb / gluten free

$18

gluten free

Eggplant & spaghetti squash lasagna

grilled eggplant with sautéed spinach, mushrooms & onions over spaghetti squash, topped with mozzarella cheese.

$18

gluten free, vegetarian

"no chic" chicken salad

made with chic peas, grapes, onions, celery, carrots, and a cashew dressing

16 oz $10

dairy free, gluten free, vegan

Power Balls

Brownie Bite, Cherry Pie, Cranberry Cinnamon, or Samoa

3 pack $4

gluten free, vegan

Chai Seed pudding

chia seeds, coconut milk, vanilla, cashews, dates. great with fruit or chocolate chips for dessert or with granola & fruit for breakfast!

$10

gluten free, vegetarian, vegan

Quinoa Power Salad

red quinoa with edamame, chickpeas, kale, brussel sprouts, tomatoes, cucumbers, green onion, fresh herbs, & lemon vinaigrette

$8 per Plain

$15 per With Salmon
All salads made fresh; all dressings house made. Check our specials for the salad of the week.
Deli Salads
Cranberry Chicken Salad

shredded chicken breast, purple & green onion, cranberries, celery, tangy mayo

8 oz $7

16 oz $12

Yellowfin Tuna Salad

yellowfin tuna with celery, dill, relish, mayo & sour cream

8oz $9

16oz $16

Shrimp Salad

Chopped shrimp, diced red pepper, celery, purple onion, green onion, chopped egg, tarragon mayo sauce.

$9 per 8 oz

$16 per 16 oz

Bacon Broccoli Salad

fresh broccoli, bacon, cheddar cheese, diced red pepper, purple onion, creamy cider dressing

16 oz $7

Deviled Egg Salad

chopped eggs, pickled red onion, capers, dill, mayo & mustard

$5

$8

Lemon Dill Chicken Salad

Shredded chicken breast with fresh lemon and dill, mayo and green grapes.

$7 per Half

$12 per Full

Asian Noodle Salad

pasta, shredded carrots, cabbage, green onion, and Asian sesame dressing (vegetarian, vegan, dairy free)

$8

Roasted Veggie Orzo

roasted peppers and onions, sundried tomatoes, fresh basil in light lemon vinaigrette, mixed with orzo vegetarian/vegan/dairy free

$8
Green Salads
Fall Harvest Salad

Romaine & mixed greens, cranberries, honey crisp apple, pumpkin seeds, candied pecans, feta cheese. choice of dressing: balsamic or maple mustard

$12

Cobb Salad

romaine with chopped tomatoes, cucumbers, onion, bacon, egg, cheese with garden herb dressing &/or maple mustard dressing

$12

Traditional Caesar Salad

Chopped Romaine, shaved Parmesan, croutons.

$10

Super Food Salad

shredded kale & brussel sprouts with roasted butternut squash, pumpkin seeds, cranberries, & feta cheese with poppyseed dressing

$12

greek salad

romaine with chopped tomato, black olives, red & green peppers, purple onion, banana peppers, feta cheese

$12

Mexican Streetcorn Caesar Salad

romaine, roasted corn, bacon lardons, cilantro, queso fresco cheese with Mexican caesar dressing & cornbread croutons

$12

BLT salad

romaine, pickled red onion, tomato, bacon, blue cheese, candied pecans, balsamic glaze, garden herb dressing

$12

Garden Salad

chopped romaine, shredded carrots, cucumbers, tomato with choice of dressing

$8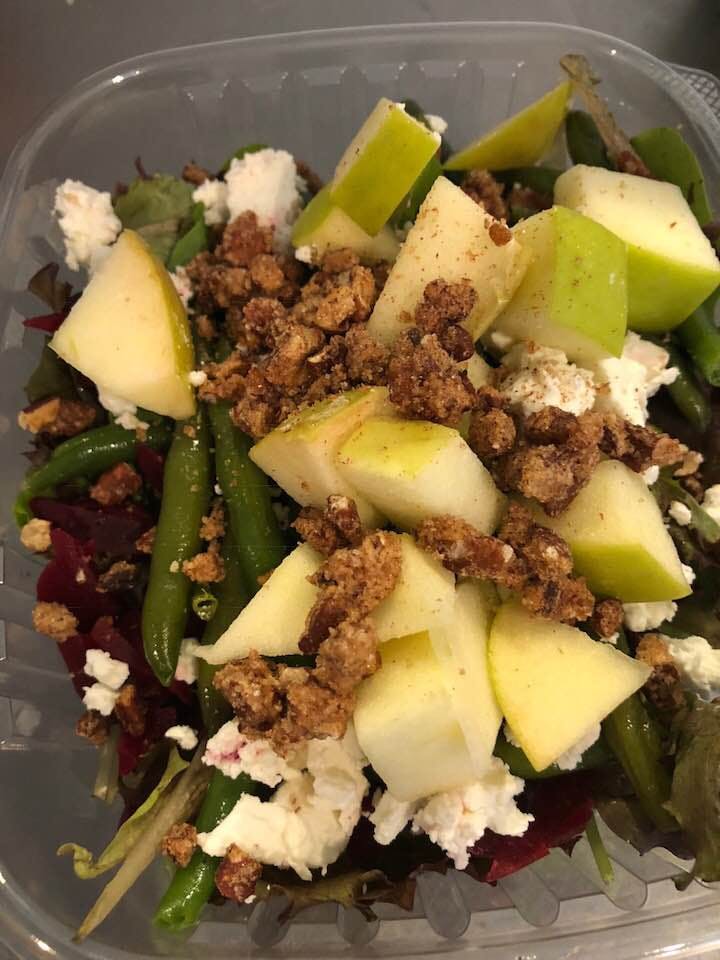 Slide 1 of 4
Slide 2 of 4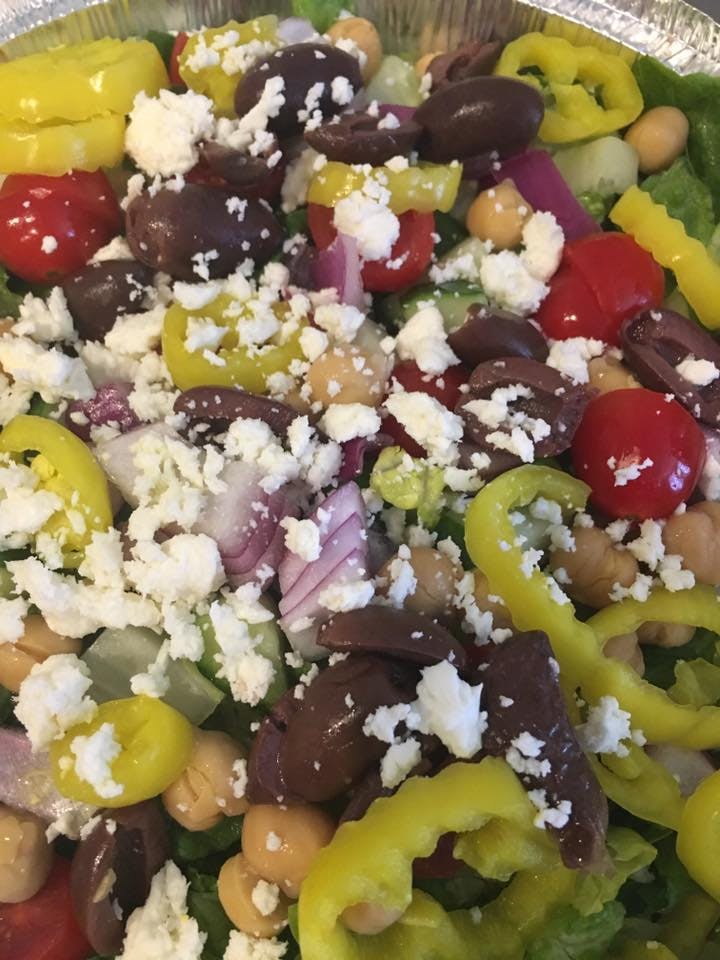 Slide 3 of 4
Slide 4 of 4
Check our "Specials" section to see the "Pizza of the Week."
Cauliflower Crust Pizza
Pepperoni Cauliflower Crust

$14

Margherita Cauliflower Crust

$12
Flatbread Crust Pizza
Margherita Flatbread

$12

Pepperoni Flatbread Pizza

$14
If you have an appetizer in mind that you don't see listed here, just ask and we can probably make it!! Stocked appetizers are available for immediate pick up in The Kitchen. Special Order appetizers require 2-3 days advance notice.
Download PDF
Stocked Appetizers
Always stocked!
Marinated Shrimp

large shrimp marinated for 24 hours in lemon vinegar marinade with capers & onions, served with a dijon tarragon dipping sauce

$20 per pound

Pimento Cheese

Traditional homemade pimento cheese. Try our added pickles or jalapenos for an additional price.

$10 per 16 oz

$6 per 8 oz

Kitchen Dip

Roasted corn, bacon, green onion, slivered almonds, 2 cheese, mayo.

$6 per 8 oz

$10 per 16 oz

Smoked Salmon Spread

smoked salmon with cream cheese, dill, capers, purple onion & green onion.

$14 per 16 oz

$7 per 8 oz

Spinach Artichoke Dip

spinach, artichokes, mayonnaise & 4 cheese, onions, garlic

$10 per 16 oz

$6 per 8 oz

Guacamole

$10 per 16 oz

Sliced cheese wafers

$7

Fire Crackers

$4

Sweet & Salty Nut Mix

$8

Appetizer Cups

Choose from Bacon Tomato or Spinach Artichoke

$18

Bacon Wrapped Quail

Frozen bacon wrapped quail

$18 per Dozen

Crab Dip

lump crab, mayo, green onion, monterey jack and parmesan cheese, horseradish, and seasonings

$10 per 8 oz

$18 per 16 oz

Raspberry and Brie Phyllo

Frozen raspberry and brie in phyllo

$24 per dozen

Southern Olive Bites Baked Cheese Olives

$15

Guacamole

$10

Spanakopita

Greek savory spinach pie

$18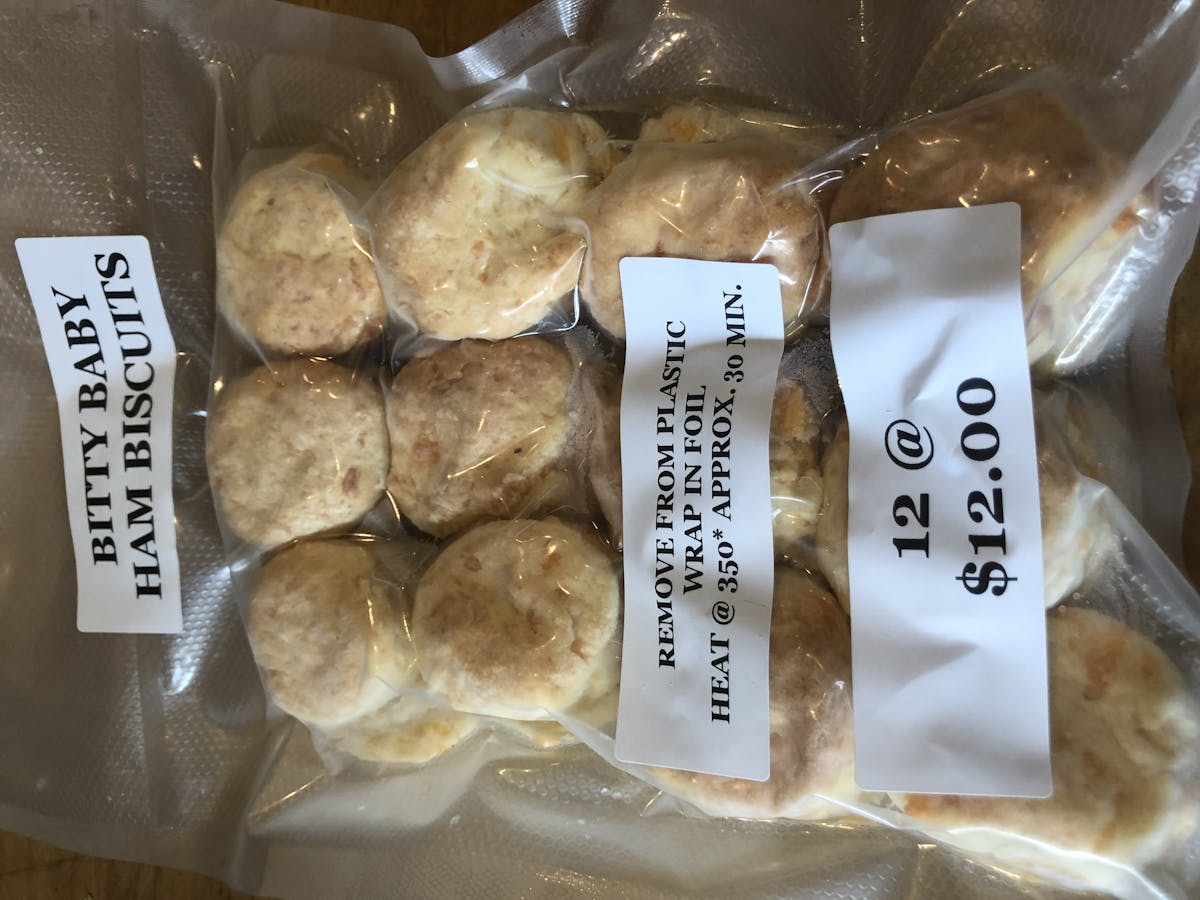 Slide 1 of 2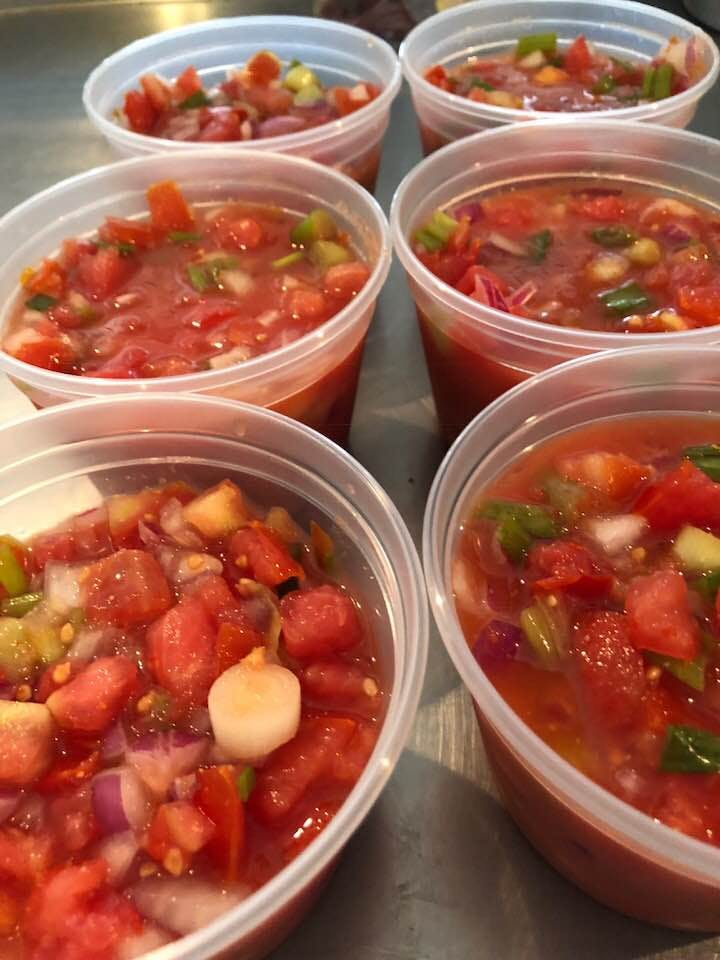 Slide 2 of 2
Wraps & Sandwiches
You can add-on a small deli salad or chips for an additional charge.
southern club wrap

ham, turkey, bacon, pimento cheese, pepper jelly

$12

Steak and Cheese Wrap

thin sliced ribeye with grilled onions, herbed cream cheese spread, white american cheese, lettuce & tomato

$12

Cranberry Chicken Salad Wrap

$10

Turkey Jammer

Sliced turkey breast, bacon, raspberry preserves, Boursin cheese spread, mixed greens.

$12

Italian Sub wrap

Salami, ham, white American cheese, basil mayo, lettuce, tomato, banana peppers.

$12
Sweet Treats and Desserts
Pumpkin Bread

$8 per Full Loaf

Chocolate Chip Banana Bread

$10 per Full Loaf

Chocolate Cake with Chocolate Icing

$10

Carrot Cake With Cream Cheese Icing

$10

Coconut Cake With Cream Cheese Icing

$10

Cheesecake

2 slices

$7 per New York Style

$10 per Other Flavors

Banana Pudding

$12

Raspberry Shortbread Bars / Apricot Shortbread Bars

6 pack $10

Outrageous Brownies - with or without nuts

$15 per Tray

Cookies

Salted Caramel/ Lemon Blueberry/Double Chocolate Chip

$3 per 1 cookie

$8 per 3 cookies

Chocolate chip Shortbread cookies

$8

Apple Cake

$12 per Full Loaf

$6 per Half Loaf

Nightingale Ice cream sandwiches

German chocolate, pecan pie, chocolate espresso, Cookie Monster

$6

Banana Walnut Bread

$10 per Full

Mixed Berry Trifle

$12

Caramel Cake

with caramel cream cheese frosting

$10

Cranberry, Orange, Walnut Bread

$12

Chocolate Chip Pumpkin Bread

$12

Blondies

gluten free, white chocolate toffee

$8 per 4 gluten free

$6 per 4 pack toffee

Flourless Chocolate Torte

gluten free

$12 per 2 slices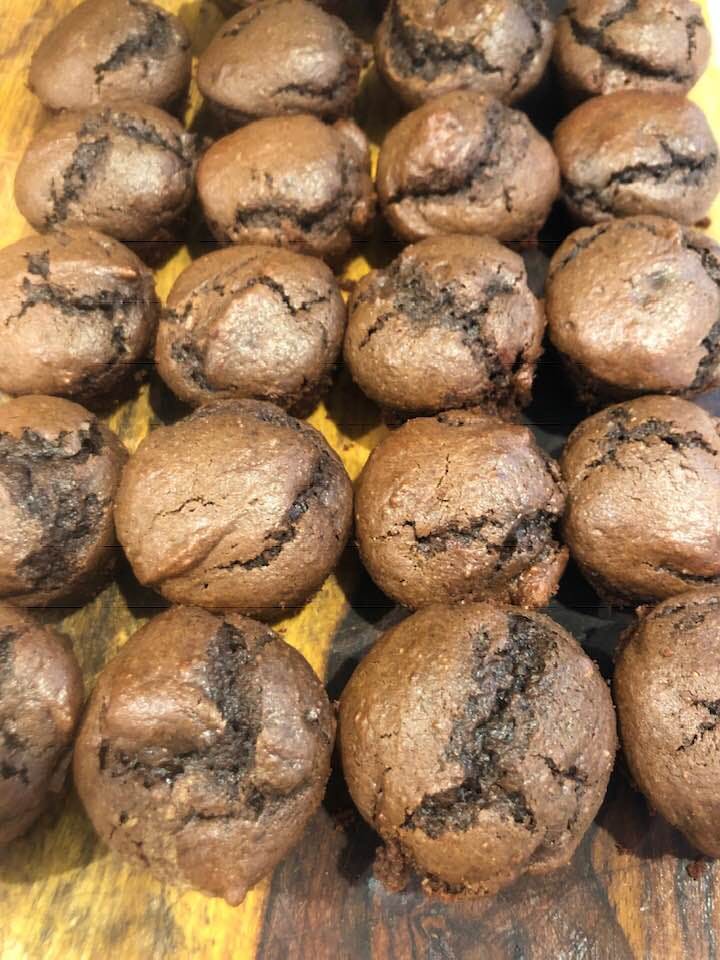 Slide 1 of 4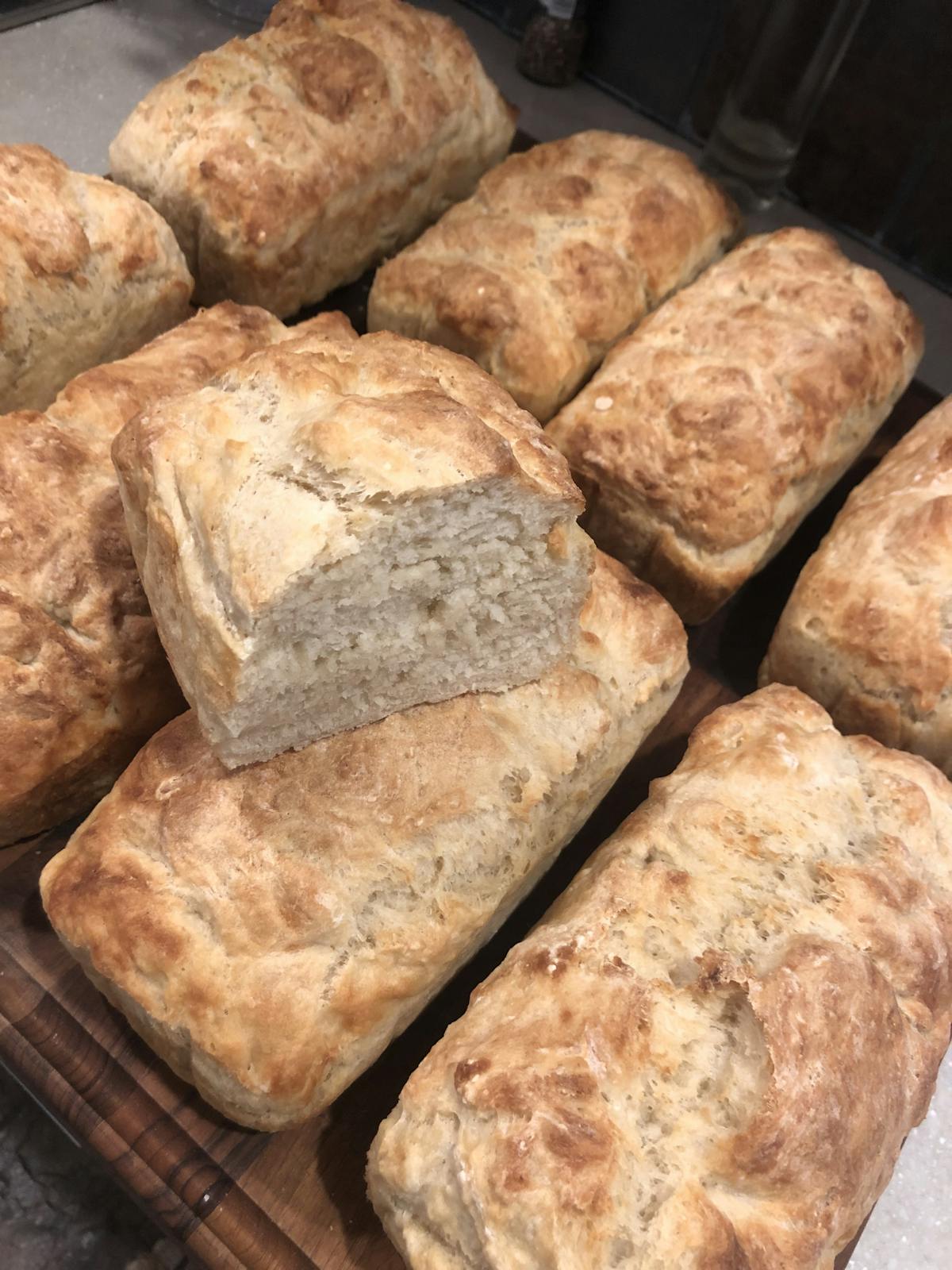 Slide 2 of 4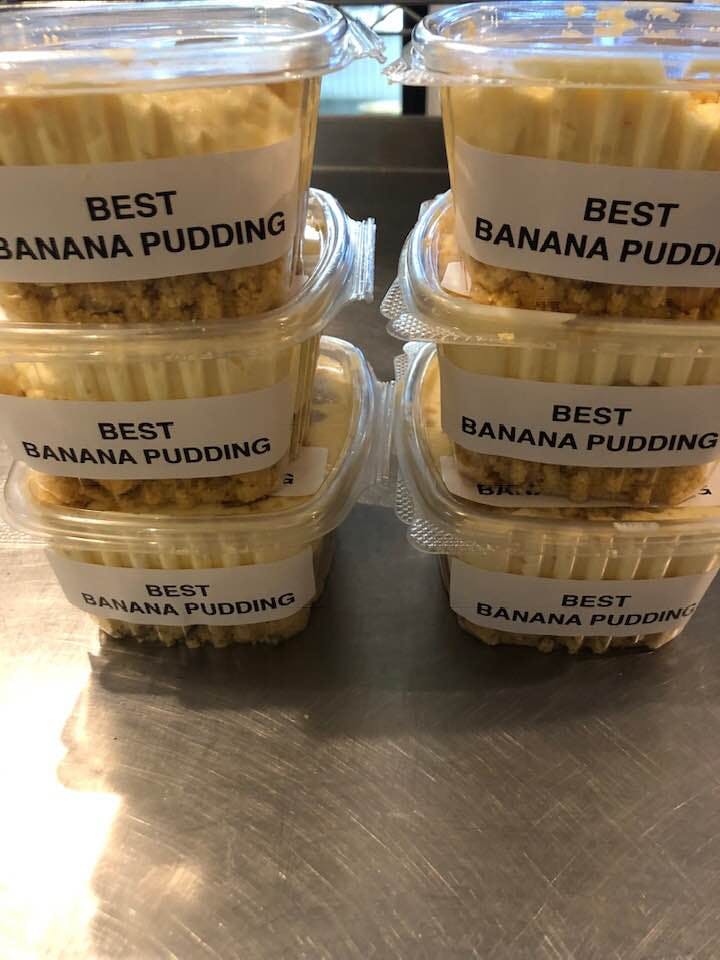 Slide 3 of 4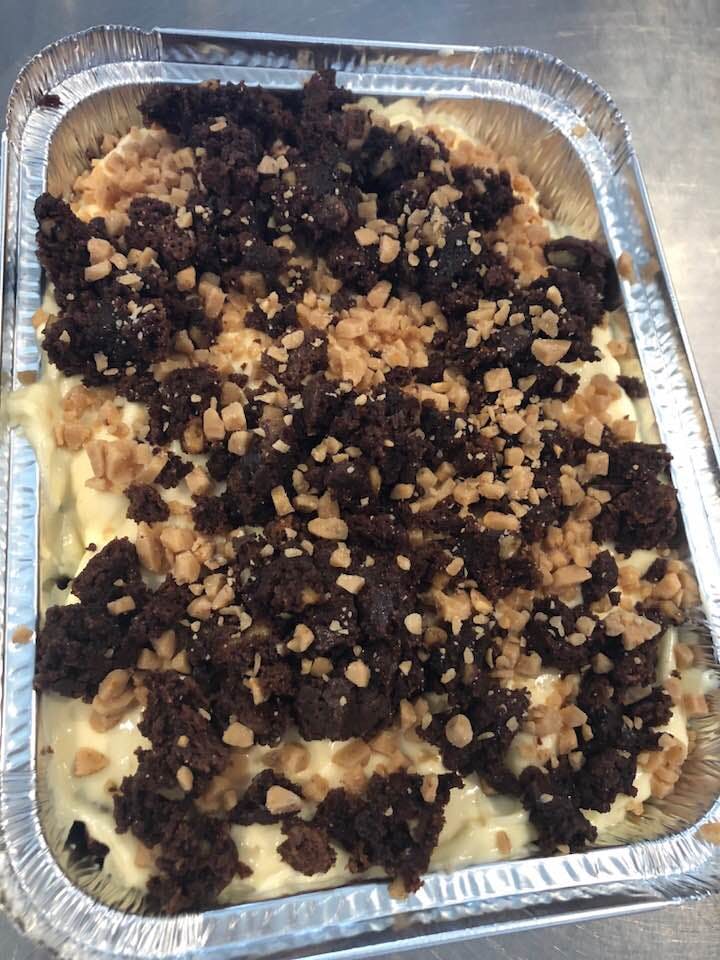 Slide 4 of 4